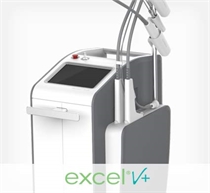 The excel® V+ Laser by Cutera is the latest generation laser technology for vascular and pigmentation treatments. The Cutera excel V+ laser treats port wine stains, scars, rosacea, leg veins, and facial veins.
Excel V+'s large 16 mm spot size – the largest in its class – or adjust spot sizes in 0.5 mm and 1 mm increments to precisely match spot size to the treatment area – eliminating unnecessary collateral tissue damage.
Applications
Rosacea
Diffuse redness
Veins (facial, leg, periorbital)
Angiomas
Port wine stains
Poikiloderma
Wrinkles
Venous malformations
Bruising
Inflammatory acne
Benign pigmented lesions
Age/brown spots
Scars
Skin Rejuvenation
Before and After Images
*Results may vary for each patient.
Photos Courtesy of Cutera
| | |
| --- | --- |
| | |
| Before excel V+ Laser | After excel V+ Laser |
| | |
| Before excel V+ Laser | After excel V+ Laser |
| | |
| Before excel V+ Laser | After excel V+ Laser |
| | |
| Before excel V+ Laser | After excel V+ Laser |
Cutera Excel® V+ Laser for Roseaca